Snorkel Classes for Beginners, all Ages and Abilities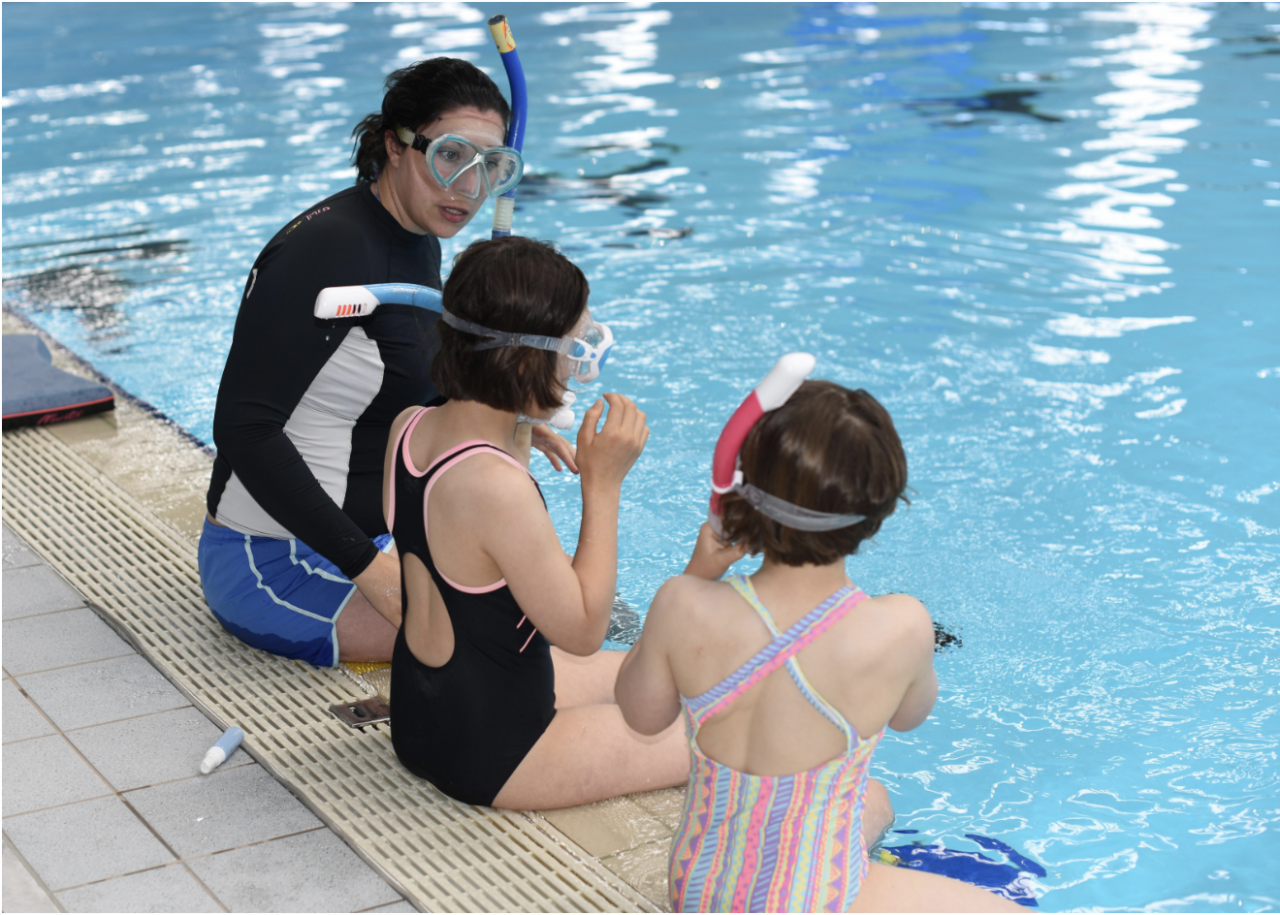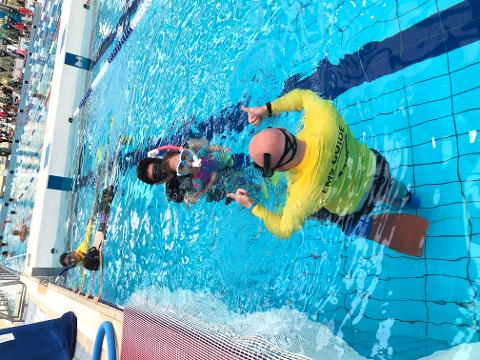 Duration: 45 Minutes (approx.)
Location: North Adelaide , SA
Product code: PP7BFB
A beginner's course at Adelaide Aquatic Centre for those who have not snorkelled before and all abilities who would benefit from extra assistance. The lessons are fully inclusive and we encourage people living with disability, autism, and those of all ages and abilities who would benefit from extra assistance to learn and practice basic snorkelling techniques to ensure a safe and enjoyable first snorkel experience. Many first-time snorkelers have requested this extra tuition after struggling with snorkel skills on their first ocean experience or choosing not to snorkel with family and friends due to a lack of skill and confidence.
The ticket price includes snorkel equipment and a trained guide.
Can you swim and tread water but never snorkelled before?
Do you want to join Experiencing Marine Sanctuaries (EMS) on a snorkel this summer but are not yet confident to snorkel in the ocean?
Would you like some basic snorkelling lessons from an accredited instructor in the comfort of a heated pool?
Would you like to learn how to clear your snorkel with ease or duck dive to see more (and take better photos and video) on your next snorkel?
If this sounds like you or someone you know then please join us and share this opportunity via your networks.
EMS snorkel instructors and assistant guides will be taking small groups (up to 4 participants) in the heated pool to teach basic snorkelling skills.
Suitable for adults & children (5 years and above) who are good swimmers (swim at least 25m unassisted).
Children under 15 years old and those living with disability must be supervised by an adult parent/carer at a 2:1 ratio (2 children: 1 parent/adult) -
At least one parent/carer to accompany in water and supervise a maximum of two children. Parents who don't want to join class and companions of people living with a disability can participate at cost of pool entry.
Supporters: EMS snorkel events are proudly supported by Green Adelaide, Department for Human Services and Suzanne Elliot Charitable Trust and our team of community volunteers.
Please arrive at least 15 minutes before start time to fill out the registration form and be fitted with snorkel gear.

FAQ
What concessions are available?
Concession is defined as a Senior or Australian Health Care Card Holder who holds a Government issued Senior Card, Pension Card, Repatriation Health Card or Veterans Affair card. For an overseas senior, Proof of Age Card or Passport showing age as 65+ years old. We accept companion card.
Student is defined as any primary and secondary school student or full time tertiary and post-secondary students who have an approved photo ID.
Where do I meet to take part in the tour?
Please arrive at Adelaide Aquatic Centre front counter 15 minutes before your scheduled lesson. An EMS guide will meet and escort you to the pool area for snorkel gear fitting and briefing before your lesson. EMS Snorkel leaders will have a registration table set up near pool - look for the EMS banner.
Is there an age limit to enter the event?
The event is open to children 5 years and above who can swim. Children under 15 must be supervised in the water by a parent/adult (maximum two children per adult).
What can/can't I bring to the event?
Bring your own snorkelling gear (if you don't have your own snorkelling equipment we provide free of charge).
Do you need to have snorkelling experience?
You don't need snorkelling experience but you do need to be able to tread water and swim a short distance (at least 25m).
What is your cancellation policy?
No shows and cancellations inside 72 hours prior – no refunds or transfers, excluding refund for any additional merchandise items purchased.

Cancellations from time of booking up to 72 hours prior to departure – refund with 20% cancellation fee or transfer to another EMS tour or event with a 20% administration fee. Extra payment for price difference may be required.
COVID-19: Advice for snorkel tour participants

EMS is committed to offering a welcoming and safe place for our snorkel tour participants, employees and volunteers.

In response to COVID-19, we are closely monitoring developments and taking action in line with Government advice to mitigate any risk posed to the community. Please be assured that EMS has always ensured any equipment used by our participants is well maintained and fit for purpose. The water we swim in is known to contain a large number of microbes, so ensuring our equipment is sanitised after every use is, and has always been, an integral part of our snorkelling operations.
As detailed in our Standard Operating Procedures Manual, all equipment is sanitised after each use. Specifically,
- Masks are treated with detergent or commercial de-fog spray before use.
- After use our masks and snorkels are submerged for 15 minutes in a solution of Milton's Antibacterial Solution (Milton™ contains sodium hypochlorite and is advocated by hospitals and government agencies to kill COVID-19).
- Wetsuit, hoods, booties and gloves are treated with commercial germicidal disinfectant Mediclean™ (effective against COVID-19) and rinsed before being air-dried and stored.
To enhance your health and safety while participating in a snorkel tour EMS has undertaken the following safety provisions:
- Increased our already strong equipment cleaning and sanitation measures.
- Implemented a hand sanitation station at registration desk and gear fitting areas.
- Reinforced employee health and hygiene practices, including sending volunteers and staff home and encouraging those who are unwell to stay home if their demonstrated health symptoms could impact upon colleagues or participants.
We kindly ask anyone who feels unwell to postpone the tour until fully recovered, and we encourage you to stay up to date via Australian Government Coronavirus Health Information Line: 1800 020 080 and SA COVID-19 updates website https://www.covid-19.sa.gov.au/
Thank you for playing your part in keeping our community healthy. We are grateful for your understanding during this challenging time.