Nakudla SharkFest Snorkel with PJs - Christies Beach - Rescheduled to 23rd December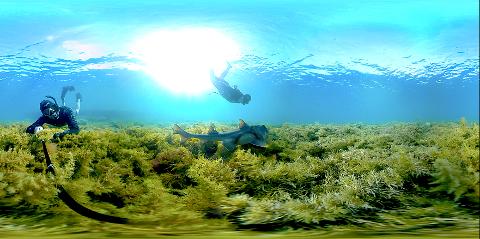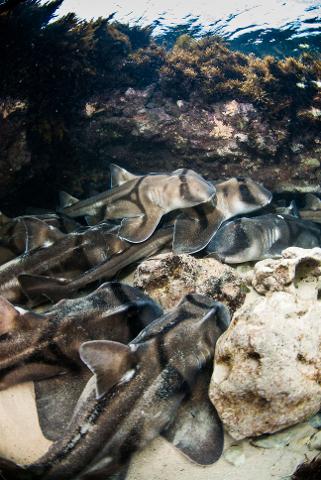 Duration: 90 Minutes (approx.)
Location: Christies Beach
Product code: Nakudla
Who wants to swim with Nakudla!? Nakudla is the Kaurna word for shark. Join us for a guided snorkel with our "puppies of the sea" (Port Jackson sharks) at Christies Beach. Port Jackson sharks (PJ's) are small harmless sharks that feed on small crabs and shellfish. Learn how to safely experience PJ sharks and rays and why sharks are so important to the health of our reefs. In early November the PJ's come into shallow water to mate, lay eggs and rest - often aggregating in the hundreds on one small area of the reef. At the easy beach entry point, you may see cowfish, crabs, eagle rays and large schools of whiting. As you move along the reef look for bright orange sea stars, colourful reef fish, squid, boarfish or maybe a wobbegong or dolphin.

Small groups (maximum of 6 people to 1 guide) so you get to enjoy the beach and shallow reef. Snorkel guides lead the tours and are often accompanied by student or qualified marine biologists.
We thank the City of Onkaparinga and Green Adelaide for their support to run this event.
The ticket price includes wetsuits and snorkel gear for adults and children.
We have wetsuits from Adult 5XL down to size 4 child. Suitable for children 5 years and above who can tread water and swim. At least one parent to accompany and supervise two children in the water. 5-7-year-olds can participate if supervised one-on-one by a parent.
Children 15 and under must be accompanied by an adult.
Please arrive 30 minutes before snorkel time to fill out your registration form and be fitted with snorkel gear.

Please note that this event may be cancelled in the event of poor weather.
Plan B location on 9th December - If this even can not go ahead due to SW wind on 9th December EMS will move the event to Second Valley Beach. At Second Valley there is a good chance of spotting the southern eagle ray and leafy seadragon!
Where do I meet to take part in the tour?
EMS Snorkel leaders will have a registration table set up on Rotary Park (corner of Beach Road and Esplanade Road) - look for the EMS trailer, marquee tent and banner.
What to bring:
Towel to dry off at the end of the session
Wetsuit and snorkelling gear – EMS can supply if you don't have your own
FAQs
Are snorkel tours only for children? Or for adults too?

EMS snorkel tours are for all ages, adults and children from 5 years and up. Children 15 and under will need to be accompanied and supervised in the water by a paying adult. For ages 8 and above, no more than 2 children per adult. For ages 5-7, no more than one child per adult.
What concessions are available?

A concession is defined as a Senior or Australian Health Care Card Holder who holds an Australian Government-issued Senior Card, Pension Card, Repatriation Health Card or Veterans Affair card. For an overseas senior, Proof of Age Card or Passport showing age as 65+ years old.
A student is defined as any primary or secondary school student or full time tertiary and post-secondary students who have an approved photo ID.
Are warm wetsuits and snorkel gear provided?

Yes as part of the ticket price we supply toasty warm wetsuits and boots as well as snorkel gear.
Will I be cold?

We use appropriate thickness wetsuits to ensure that you are snug and warm.

Do I have to wear a wetsuit?
When participating in an EMS snorkel tour, a wetsuit will need to be worn to provide buoyancy and protect from stingers, sunburn and abrasion.

Can I bring my own wetsuit and snorkel gear?
Yes, we encourage you to bring your own gear, but please ensure if you bring your own wetsuit it is full length and appropriate thickness.

What facilities are there at Christies Beach?
Toilets, sun shelter and outdoor shower.

I have never snorkelled before and can't swim well can I join a tour?
We advise you to sign up for an EMS Snorkel 101 class - an introduction to snorkelling where the basics of snorkelling are taught in a controlled pool environment. See our website for bookings. EMS can also provide boogie boards to hold onto in the water for those with less confidence.

How is the tour run?
- Arrive 30 minutes before your tour.
- Check-in at the registration desk first.
- Guides will assist you to choose a wetsuit, boots, hood, gloves, fins, snorkel and mask.
- When fitted with all appropriate gear, guides will brief you in small groups about your snorkel plan and safety.
- Enter the water for the snorkel in your small group.
- After exiting the water, change out of wetsuits and other gear, wash and rinse, and hand back to our guides to hang up.

What happens if the weather turns and the event is cancelled?
Unfortunately, sometimes the weather does not like to play ball with EMS and events have to be cancelled due to safety concerns.

I have purchased tickets for family and/or friends but need one or two more tickets - you are sold out but can I arrange to buy extra tickets?
We may be able to fit a couple more participants into some sessions depending on the current number of participants and the availability of EMS volunteer guides and paid staff on the day.
What is your cancellation policy?
No shows and cancellations inside 72 hours prior – no refunds or transfers, excluding refund for any additional merchandise items purchased. Cancellations from time of booking up to 72 hours prior to departure – refund with 20% cancellation fee or transfer to another EMS tour or event with a 20% administration fee. Extra payment for price difference may be required.