Snorkel Port Noarlunga Jetty and Reef Sanctuary - 19th February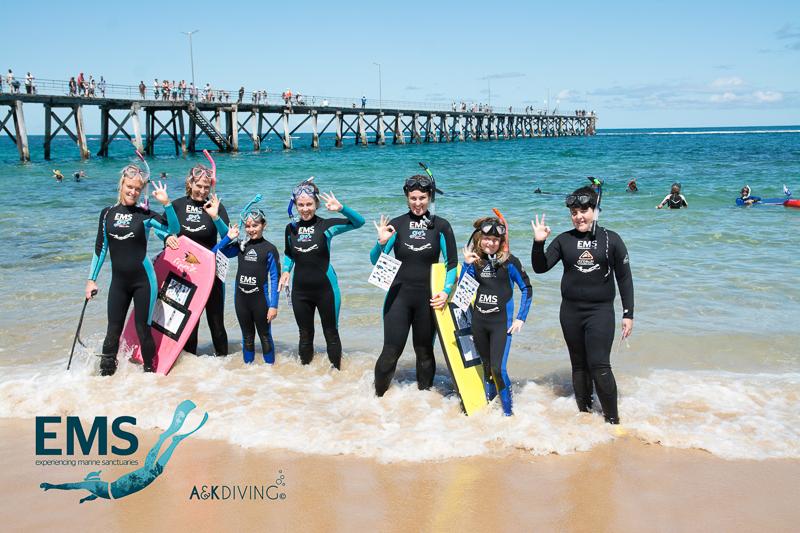 Duration: 90 Minutes (approx.)
Location: SA
Product code: EMSPNST
Professional Event Leaders and accredited snorkel guides will help you explore the jetty and seagrass beds, home to a huge diversity of colourful fish and plant life.
EMS snorkel events are proudly supported by the Green Adelaide Landscape Board, Sustainable Onkaparinga, Suzanne Elliot Charitable Trust, Department of Social Services and our team of amazing volunteers.

Current level of funding, in-kind support and over 100 volunteer hours per event makes it possible to reduce the price of tickets by up to 30%. EMS is a not-for-profit and all funds raised from ticket sales go to overheads such as dive pro event leaders, insurance, equipment storage and volunteer training.
A short drive from Adelaide, families can enjoy the beach, picnic, and easy reef access, at this captivating site located in the Encounter Marine Park and Port Noarlunga Sanctuary Zone.
At the jetty stair entry, you'll be welcomed by large schools of sweep, silver drummer, leather jackets, and zebrafish. As you move along the reef, search for crabs, rays, reef fish, squid (and maybe even a dolphin or seadragon!) Along with the beach entry areas, look for bright orange sea stars, crabs, bream, dusky morwong, rays, and - if you're lucky - a harmless baby Port Jackson shark!
Small groups (maximum of 6 people to 1 guide) so you get to enjoy the beach and shallow reef.
Snorkel guides lead the tours and are often accompanied by student or qualified marine biologists.
We Provide a wetsuit, mask (goggles), snorkel, fins (flippers), and an accredited guide.

We have wetsuits from adult 5XL down to child 4.
All wetsuits are washed, and mask/snorkels sterilised between uses with COVID-19 approved cleaning products.
Bring your own mask and snorkel if you have them.
Children 5 and over and people of all abilities, who are confident in the water and can tread water and swim at least 25 metres can join the snorkel.
One adult carer per 2 children 15 and under, the adult must supervise at all times.
A person living with a disability must be supervised and supported by an adult Carer, we accept companion card.
EMS can provide an immersive wheelchair, modified wetsuits and extra floatation devices on request.
If you require extra assistance or have any special requirements, please tell us when booking your ticket. We might call you to make sure we have the team and equipment to support you on the day.
Please get there 30 minutes before your start time, you will have to fill out forms and put on your wetsuit and snorkel gear.
Everyone must wear a wetsuit or safety vest.
Parking and toilets, shaded picnic tables, and outside showers are available
Easy access to the beach, a boat ramp for a kayak or stand up-board.
Accessible car parking.
Please save the dates -
Save both Sunday 19th February and Sunday 26th February in your calendar. This event is scheduled for Sunday 19th February but if the event is cancelled we will reschedule all paid participants to Sunday 26th February.
FAQs
Are snorkel tours only for children? Or for adults too?
EMS snorkel tours are for all ages, adults, and children from 5 years and up. Children under 15 years will need to be accompanied and supervised in the water by a paying adult. For ages 5-7, no more than one child per adult. For ages 8 and above, no more than 2 children per adult.
What concessions are available?
A concession is defined as a Senior or Australian Health Care Card Holder who holds an Australian Government issued Senior Card, Pension Card, Repatriation Health Card or Veterans Affair card.
A student is defined as any primary or secondary school student or full time tertiary and post-secondary students who have an approved photo ID.
Companion Card is accepted.
Are warm wetsuits and snorkel gear provided?
Yes, we supply warm wetsuits with boots as well as snorkel gear. You can bring your own.
Will I be cold?
We use wetsuits that keep you snug and warm. If you feel the cold let us know when booking and we can bring extra body liners and hooded vests.
Do I have to wear a wetsuit?
Yes, wetsuits will help you float, protect you from stingers, sunburn, and cuts. If you can't wear a wetsuit then a vest will be provided.
Can I bring my own wetsuit and snorkel gear?
Yes, we encourage you to bring your own gear. Make sure it is full length and will keep you warm.
Can I wear a weight belt?
EMS does not provide a weight belt.
You can bring your own weight belt If you have a dive certification. Your snorkel leader will need to see the certification and have you sign a form stating that you will wear your own weight belt.
A weight belt cannot be more than 10% of your body weight or make you negatively buoyant.
How deep do you go? How far out?
We stay close (usually within 10-15m) to the reef and jetty at a maximum depth of 6m.
I have never snorkelled before and can't swim well can I join a tour?
No, but you could sign up for an EMS Snorkel 101 class - an introduction to snorkelling where you are taught in a controlled pool environment. Book via our website.
What is money for my ticket used for?
EMS is a not-for-profit, so all ticket money pays for staff, dive professionals, insurance, equipment storage and volunteer expenses such as training and travel subsidy.
Funding, in-kind support and hundreds of volunteer hours makes it possible to reduce the price of event tickets by up to 30%.
Where do I meet to take part in the tour?
EMS Snorkel leaders will have a registration table set up near the jetty entrance - look for the EMS trailer, marquee tent and banner.
COVID-19: Advice for snorkel tour participants
In response to COVID-19, we listen to Government advice.
EMS always uses well maintained and suitable equipment
The water we swim in contains a large number of microbes, so our equipment is cleaned and sanitised after every use.
Standard Operating Procedures Manual
all equipment is sanitised after each use.
masks and snorkels are submerged for 15 minutes in a solution of Milton's Antibacterial Solution (Milton™ contains sodium hypochlorite and is used by hospitals and government agencies to kill COVID-19).
- Masks are treated with detergent or commercial de-fog spray before use.
- Hoods are treated with commercial germicidal disinfectant Mediclean™ (effective against COVID-19) and rinsed before being air-dried and stored.
EMS safety provisions have been increased due to COVID 19
- Increased our already strong equipment cleaning and sanitation measures.
- a hand sanitation station at the registration desk and gear fitting areas.
- health and hygiene practices, including sending volunteers and staff home who are unwell and instructing anyone who is unwell to stay home i
- staff and volunteers will not have physical contact when greeting colleagues and participants.
- changed our cancellation/refund policy to prevent attendants who are unwell with cold/flu-like symptoms from attending
We kindly ask anyone who feels unwell to stay home and to stay up to date via the Australian Government Coronavirus Health Information Line: 1800 020 080 and SA COVID-19 updates website https://www.covid-19.sa.gov.au/
Thank you for keeping our community healthy and for your understanding during this challenging time.