CuttleFest - Swim with GIANT Cuttlefish 24, 25, 27, 28 June + 1, 2, 8, 9, 11, 12, 13, 15, 16 July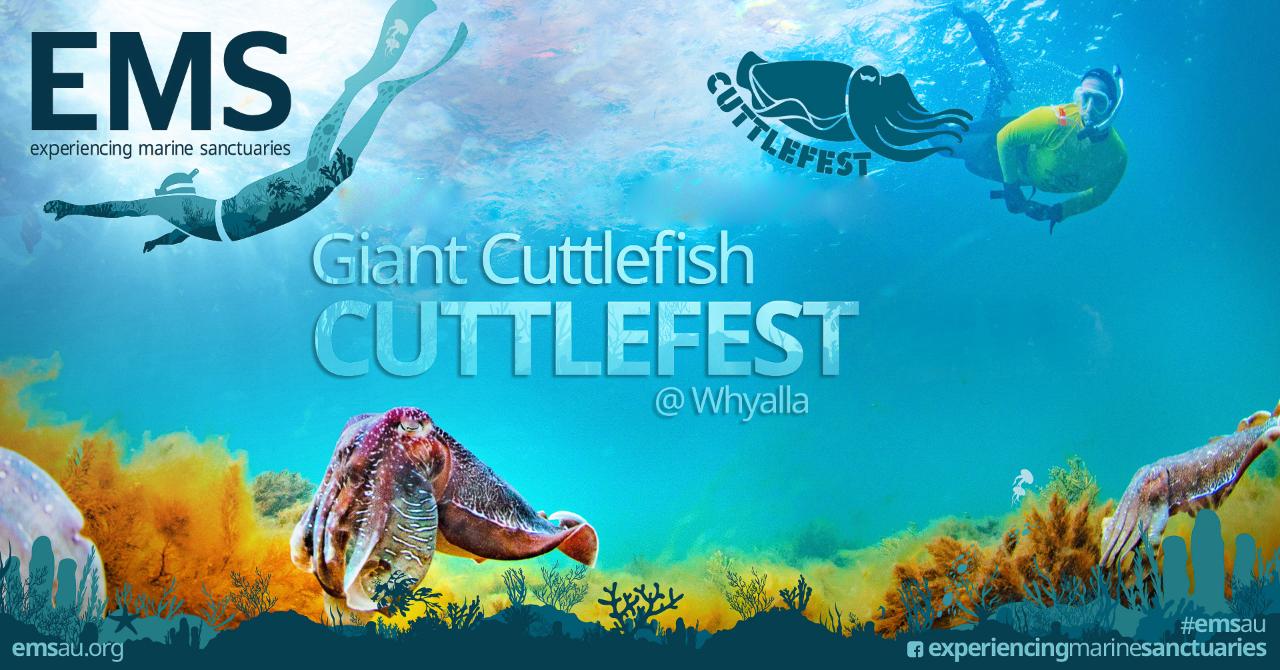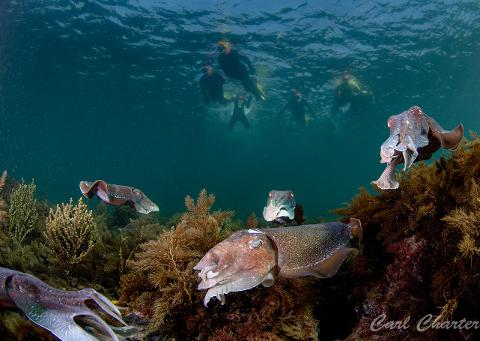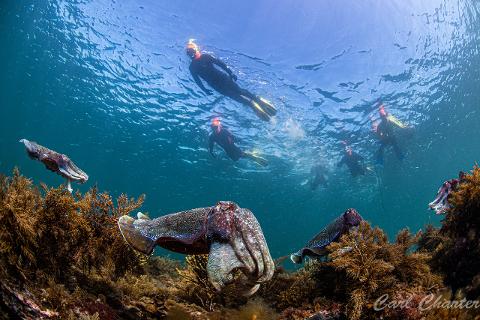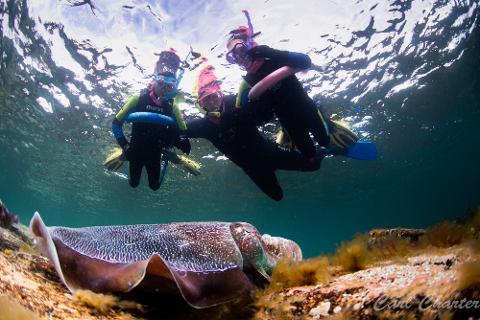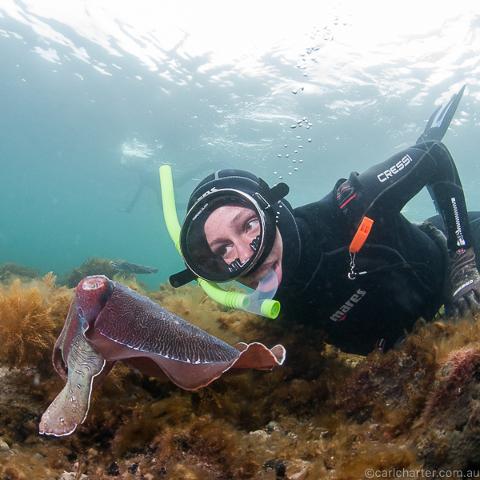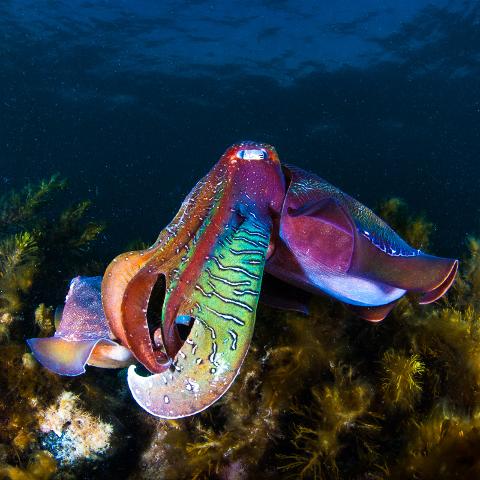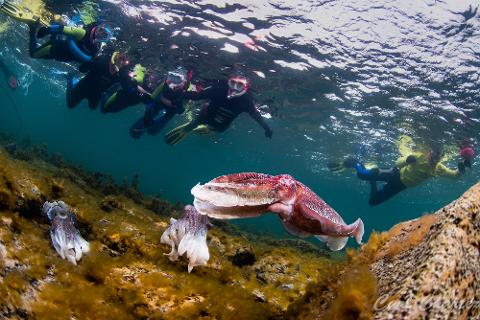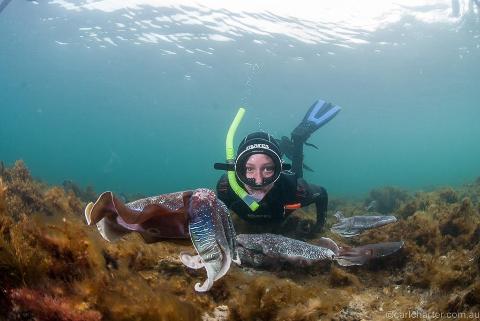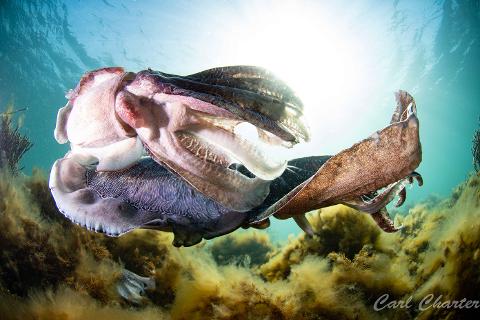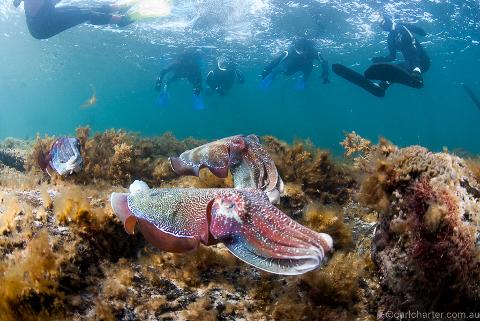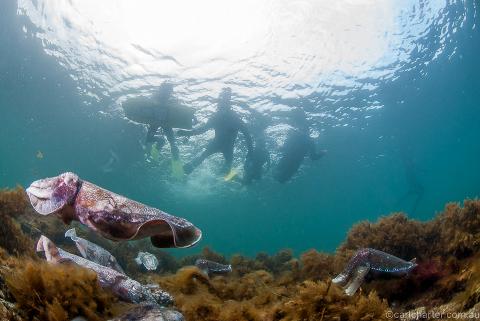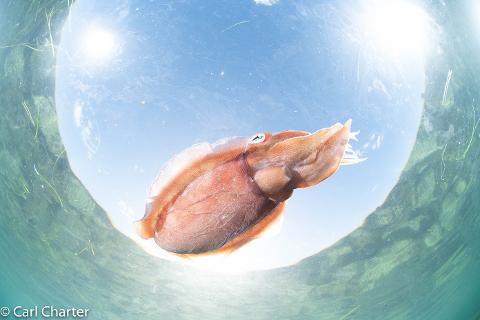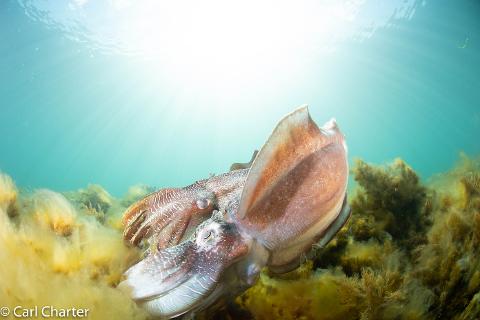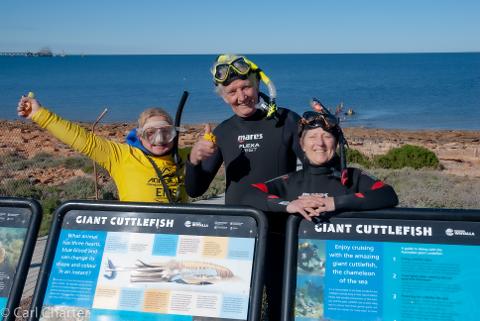 Duration: 90 Minutes (approx.)
Location: Stony Point, South Australia
Product code: CuttlefestCOM
Jump in and swim with Giant Australian Cuttlefish!

Join our nationally accredited snorkel guides and National Parks and Wildlife Service staff for a snorkel with the amazing Giant Australian Cuttlefish at Stony Point in the Upper Spencer Gulf Marine Park. Learn about their blue blood and see first hand their colourful mating rituals in a safe group environment.
The reef is also home to a variety of colourful plant life, fish, sea lions, whales and dolphins. For more information about the Upper Spencer Gulf Marine Park head to their website here
As seen on TV! SA Weekender, David Attenborough's Blue Planet and Totally Wild! Watch the Ch 10 Totally Wild! episode here.

The snorkel sessions:

Each tour lasts for up to 90 minutes (including suiting up in toasty warm wetsuits (with hood, gloves and boots), safety & cuttlefish behaviour briefing, snorkel and debriefing). The tour is suitable for both adults and children (5 years and above) who can swim at least 25m and tread water. Children 15 years and under must be accompanied and supervised in water by an adult (no more than 2 children per adult for 8 and above, but one child per adult for ages 5-7). Each supervising adult is also a paying tour participant.
Depth ranges from 1-4m and groups stay close to shore in shallower water for best colour displays. Small groups are led by our accredited guides with marine biologist guides on hand to answer questions about the cuttlefish.
Small groups - maximum of 6 people to 1 experienced lead guide. There is often an assistant guide also.
Snorkel guides lead the tours and are often accompanied by student or qualified marine biologists.
We provide a wetsuit (with hood, gloves and boots), mask (goggles), snorkel, fins (flippers), and an accredited guide.

We have wetsuits from adult 4XL down to child 4.
All wetsuits are washed, and mask/snorkels sterilised between uses.
Bring your own wetsuit (5mm minimum), mask, snorkel and fins if you have them.
Children 5 and over and people of all abilities, who are confident in the water and can swim at least 25 metres can join the tour. One adult carer per 2 children aged 8-15. One adult carer for one child aged 5-7. The adult must supervise at all times.
A person living with a disability must be supervised and supported by at least one adult carer. We accept a companion card.
EMS can provide an immersive wheelchair, reef-board with viewing portal, modified wetsuits and extra floatation devices on request (please request while booking).
If you require extra assistance or have any special requirements, please tell us when booking your ticket. We might call you to make sure we have the right things to support you on the day.
Arrive 30 minutes early: Please arrive at Stony Point at least 30 minutes before your start time. You will have to complete the registration form and be fitted with your wetsuit and snorkel gear.
Everyone must wear a wetsuit.
Parking, toilets, change rooms and shaded picnic tables available on site. Coffee and food vans on site most days.
Location: Click here for map showing Stony Point or search for 'Stony Point, Giant Cuttlefish dive site' on Google Maps.

Cancellation and refund policy for CuttleFest
Please carefully read this events specific cancellation and refund policy -
If a customer wishes to cancel their booking the following conditions are applicable: No shows and cancellations inside 72 hours prior – no refunds or transfers, excluding refund for any additional merchandise items purchased. Cancellations from time of booking up to 72 hours prior to departure – refund with 20% cancellation fee or transfer to another EMS tour or event with a 20% administration fee. Extra payment for price difference may be required.
Booking received through a third party/travel agents/online travel agents may be subject to varying cancellation and refund policies. EMS is not liable for losses incurred through booking via a third-party agent. PRICING - Prices, products and offers are in AUD and include GST - We reserve the right to correct any printing errors. - All tours are priced differently due to different arrangements and amount of funding received from partners and funding bodies.
In the rare event of a cancellation on our part, we will advise customers as soon as possible – we aim to inform you of cancellation at least 24hrs prior to event. Please ensure you provide us with a mobile number at the time of booking to ensure we are able to contact you should we need to. EMS reserves the right to cancel any event due to extreme weather conditions or shark sighting at event site within 24 hours of event. Guests who have events cancelled due to shark sightings or extreme weather conditions are offered a FULL refund. Alternatively, you may have the option to reschedule your event or receive a voucher equivalent to the value of your booking. Please be aware that there is not always a future event to reschedule to and that there may not be tickets available in future events. Refunds will be processed via the same method as the payment was received. Guests who have booked their event through a 3rd party/travel agent will need to be aware that their terms and conditions may differ. Third-Party bookings will be refunded to the Third Party rather than directly to the guest. Bank fees and charges incurred through the refund process are at the cost of the guest. From time to time in the lead up to your event, we may contact you with important information. Please ensure we are provided with your current email address; we will not be responsible if a third-party travel arranger doesn't pass on this information. OUR REFUND POLICY DOES NOT COVER TRAVEL OR ACCOMMODATION BOOKED BY THE PASSENGER. WE RECOMMEND YOU TAKE OUT TRAVEL INSURANCE TO COVER FOR UNFORESEEN CANCELLATIONS.

FAQs
Are snorkel tours only for children? Or for adults too?

EMS snorkel tours are for all ages, adults and children from 5 years and up. Children under 15 years will need to be accompanied and supervised in water by a paying adult. For ages 8 and above, no more than 2 children per adult. For ages 5-7, no more than one child per adult.
What concessions are available?

A concession is defined as a Senior or Australian Health Care Card Holder who holds an Australian Government issued Senior Card, Pension Card, Repatriation Health Card or Veterans Affair card. For an overseas senior, Proof of Age Card or Passport showing age as 65+ years old.
A student is defined as any primary or secondary school student or full time tertiary and post-secondary students who have an approved photo ID.
Are warm wetsuits and snorkel gear provided?

Yes as part of the ticket price we supply toasty warm wetsuits with vest and hood, gloves and boots as well as snorkel gear.
Will I be cold?

We use appropriate thickness wetsuits, boots, hoods and gloves to ensure that you are snug and warm.

Do I have to wear a wetsuit?
When participating in an EMS snorkel tour, a wetsuit will need to be worn to provide buoyancy, protect from stingers, cold, sunburn and abrasion.

Can I bring my own wetsuit and snorkel gear?
Yes, we encourage you to bring your own gear, but please ensure if you bring your own wetsuit it is full length and appropriate thickness for swimming with the cuttlefish.

What facilities are there at Stony Point?
Basic facilities include toilets, change rooms, a shelter/picnic area and during CuttleFest there may be hot food and hot coffee available for purchase on certain days.


How deep do you go? How far out?
Beginners normally go out about 10-30m from shore into shallow 1-2 metres of water. More experienced snorkelers may go out 20-50m from shore and up to 4-5m depth.


I have never snorkelled before and can't swim well can I join a tour?
We advise you sign up for an EMS Snorkel 101 class - an introduction to snorkelling where the basics of snorkelling are taught in a controlled pool environment. See our website for bookings. EMS can also provide boogie boards to hold onto in the water for those with less confidence.

How is the tour run?
- Arrive 30 minutes before your tour.
- Check in at the registration desk first to fill in registration form.
- Guides will assist you to choose a wetsuit, boots, hood, gloves, fins, snorkel and mask.
- When fitted with all appropriate gear, guides will brief you in small groups about your snorkel plan and safety.
- Enter the water for the snorkel in your small group.
- After exiting the water, change out of wetsuits and other gear, wash and rinse, and hand back to our guides to hang up.

What happens if the weather turns and the event is cancelled?
Unfortunately, sometimes the weather does not like to play ball with EMS and events have to be cancelled or rescheduled due to safety concerns. Please read the new Cancellation and Refund Policy for CuttleFest above.
We have heard cuttlefish have arrived at Stony Point early this year, does this mean you will do snorkel tours earlier this year?
No. EMS will be arriving for CuttleFest on 23rd June so we can only run tours between 25th June -and 17th July. Please refer to our booking page for available dates. https://www.emsau.org/ems-community-tours/
Do you run tours outside of your normal community tours?
No we only run tours on dates as per our booking page https://www.emsau.org/ems-community-tours/
You can contact Whyalla Dive Services to rent gear outside these dates.

I have purchased tickets for family and/or friends but need one or two more tickets - you are sold out but can I arrange to buy extra tickets?
We may be able to fit a couple more participants into some sessions depending on current number of participants and availability of EMS volunteer guides and paid staff on day.
EMS is a Not-For-Profit organisation so what is ticket income used for?
EMS is a not for profit organisation and all funds raised by our events go back into the organisation to make it more sustainable for the future.

Sadly, we have made a loss in past years and have also expected our staff to work for little or no pay to organise and lead CuttleFest. Volunteers have been out of pocket for vehicle use, food and accommodation. At this point in time the ticket costs are necessary to due to the costs of running an event away from Adelaide and the need to provide thick wetsuits, hoods, boots, gloves and suitable fins.

EMS invests a significant amount of funds to train community volunteers (first aid, CPR refreshers, oxygen provision and nationally recognised snorkel guide qualifications) to ensure safety of our participants. The first cuttlefish snorkel events were very small scale (run over one weekend). In order to expand to a CuttleFest (now run over 3 weekends with school and community snorkels during the week) we have had to look at pricing to ensure it covers all costs and is sustainable into the future.

This year we hope to raise enough funds from tickets sales to not only cover costs but also to allow us to invite and subsidise participants from disadvantaged communities and purchase several custom-made children's 7mm wetsuits, hoods, boots and fins as hire equipment is often unsuitable.

We thank you for supporting and engaging with EMS, and look forward to bringing you more exciting events in the future!

COVID-19: Advice for snorkel tour participants
EMS is committed to offering a welcoming and safe place for our snorkel tour participants, employees and volunteers.

EMS has always ensured any equipment used by our participants is well maintained and fit for purpose. Ensuring our equipment is sanitised after every use is, and has always been, an integral part of our snorkelling operations.
As detailed in our Standard Operating Procedures Manual, all equipment is sanitised after each use. Specifically,
- Masks are treated with detergent or commercial de-fog spray before use.
- After use our masks and snorkels are submerged for 15 minutes in a solution of Milton's Antibacterial Solution (Milton™ contains sodium hypochlorite and is advocated by hospitals and government agencies to kill COVID-19).
- Wetsuit, hoods, booties and gloves are treated with commercial grade wetsuit shampoo /detergent then air-dried and stored.
To enhance your health and safety while participating in a snorkel tour EMS has undertaken the following safety provisions:
- Increased our already strong equipment cleaning and sanitation measures.
- Implemented a hand sanitation station at registration desk and gear fitting areas.
- Reinforced employee health and hygiene practices, including sending volunteers and staff home and encouraging those who are unwell to stay home if their demonstrated health symptoms could impact upon colleagues or participants.
- Disallowing staff and volunteers from engaging in physical contact when greeting colleagues and participants.
- Updated our cancellation/refund policy to prevent attendants who are unwell with cold/flu-like symptoms.
We kindly ask anyone who feels unwell to postpone the tour until fully recovered.
Thank you for playing your part in keeping our community healthy.