Salisbury Wetlands Science & Art in the Pub - 5th December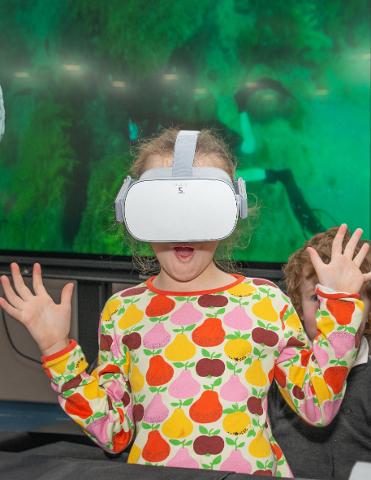 Duration: 3 Hours (approx.)
Location: Mawson Lakes, SA
Product code: PKPYZF
Join the EMS Team, guest artists, and scientists for a hot meal, sit back and experience a mesmerising dive with marine life of the Great Southern Reef from the comfort of your chair via VR goggles, and learn about our coastal wetlands and what part they play in our lives. Hear about wonderful muddy habitats that provide coastal defence, sequester carbon and air-condition our city, and provide wondrous habitats with amazing biodiversity.. Marvel at marine photographs and artwork. There will be activities for children (and adults can get involved) including a colouring in competition, and a virtual reality marine life experience. As an optional activity you may join us for a guided twilight walk through the wetlands.
Tuesday 5th December 5.30pm - 9pm – The Watershed Function Centre & Cafe (665 Salisbury Hwy, Mawson Lakes).
5.30 pm - Order meal on arrival.
6.00 pm - Great Southern Reef VR experience & colouring in competition for kids in the craft corner.
6.50 pm - Acknowledgement to Country.
6.55 pm - Introductions
7.00 pm - Connections: Coastal wetlands: Learning to love them - Peri Coleman - Principal Consultant, Delta Environmental Consulting
7.25 pm - Short break
7.30 pm - Salisbury wetlands and Salisbury Water - the story - Bruce Naumann – Manager Salisbury Water
7.55 pm - Q&A panel with artists and scientists. Brendan Toohey.
8.15 pm - Optional free guided twilight wetland walk.
9.00 pm - Close - depart venue.
Thank you to our supporters - Inspiring SA, Salisbury Water, The Watershed Function Centre & Cafe, Green Adelaide & the Glenelg Nature Trust.
Meals
There will be a range of meals available including vegetarian, vegan and gluten-free options.
Orders can be made at The Watershed Function Centre & Cafe 5.30pm - 6.15pm. (served before 6.30pm)
Your ticket reserves a seat and meal (meal to be purchased separately on arrival).
FAQ
What concessions are available?
A concession is defined as a Senior or Australian Health Care Card Holder who holds an Australian Government issued Senior Card, Pension Card, Repatriation Health Card or Veterans Affair card. For an overseas senior, Proof of Age Card or Passport showing age as 65+ years old.
A student is defined as any primary or secondary school student or full-time tertiary and post-secondary student who has an approved photo ID.