SOLD OUT! - Dunes, Rays and Dolphins of Holdfast Bay - Science in the Pub - Seacliff Beach - 18th April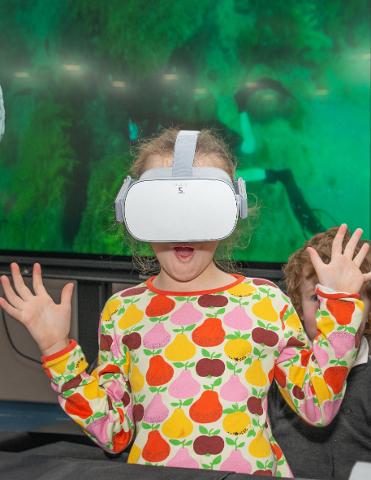 Varighed: 3 Timer (Ca.)
Sted: Seacliff Beach, South Australia
Produkt kode: PECDC3
Join the EMS Team, guest Artists, and Scientists for a pub meal and learn all about local rays, dolphins and the importance of the local sand dune system. Sit back and experience a mesmerising dive with rays, Port Jackson sharks and other local marine life from the comfort of your chair via VR goggles, and learn more about the lifestyle of the local eagle rays and dolphins. Marvel at ray and dolphin photographs and artwork. There will be activities for children (and adults can get involved) including a colouring in competition, and a virtual reality marine life experience.

Tuesday 18th April 5.30 - 8.15 pm – Brighton and Seacliff Yacht Club (246 Esplanade, Seacliff).
5.30 pm - (optional activity if sea conditions are flat calm) - Join researcher Chloe Roberts on the beach in front of Yacht Club to view the rays.
6.00 pm - Great Southern Reef VR experience & colouring in competition for kids in the kids corner. Photo presentation by Carl Charter. Artists will have their works on display and for sale.
6.00 pm – Order meal on arrival. Meals served at 6.30pm.
6.45 pm - Kaurna Welcome to Country.
6.50 pm - Introductions - Brendan Toohey
6.55 pm - Dunes in the City of Holdfast Bay - Changes over Time - Sam Buxton Stewart, Urban Greening Officer, City of Holdfast Bay.
7.15 pm - Many years' experience with the Port River dolphins – Dr Mike Bossley
7.35 pm - Short break
7.45 pm - Southern eagle rays at Seacliff and surrounding areas - Chloe Roberts, PhD candidate University of Adelaide.
8.05 pm - Q&A panel with artists and scientists - Brendan Toohey
8.15 pm - End
Thank you to our supporters - Flinders University, City of Holdfast Bay and Brighton and Seacliff Yacht Club.
Meals
There will be a set menu available including vegetarian, vegan and gluten-free options.
Orders can be made at Brighton and Seacliff Yacht Club bistro between 5.45pm - 6.15pm. (served 6.30 - 7pm)
We ask that you select meals when booking to give Yacht Club an idea of meals to prepare.
Menu
Crispy Skinned Salmon Fillet (GFO) $29
Chorizo and Prawn Linguine with Chilli $28
Roast Pumpkin Salad (V, VGO, GFO) $25
Beer Battered Fish with Chips (GFO) $25
Chicken Schnitzel $24
Chips and nuggets (kids meal) $14
FAQ
What concessions are available?
A concession is defined as a Senior or Australian Health Care Card Holder who holds an Australian Government issued Senior Card, Pension Card, Repatriation Health Card or Veterans Affair card. For an overseas senior, Proof of Age Card or Passport showing age as 65+ years old.
A student is defined as any primary or secondary school student or full-time tertiary and post-secondary student who has an approved photo ID.